Your local Irish pub in the
heart of Melbourne
The Last Jar is an Irish pub that prides itself on stellar service, great food and drink and live music in a comfortable and welcoming environment.
Open Wednesday to Sunday we offer a variety of live music. Wednesdays and Sundays are traditional Irish music nights, reminiscent of what you would find back in Ireland where anyone is welcome to join in. Thursday nights are home to MacCrimmin's weekly residency from 7pm, a mixture of both Irish and Scottish jigs, reels, polkas and songs. Fridays feature rotating musicians who will be sure to play all your favorite pub songs.
Beer, wine, cocktails and an extensive whiskey list have all been created with care to create a well-rounded offering. With over 12 beers on tap there are favorites such as Guinness, Stone and Wood and Kilkenny alongside a rotating craft beer section. We have happy hour(s) every day from 4-7pm.
Head Chef Jake Beazley who comes from Northern Ireland is particularly known for his incredible Beef and Guinness pies but loves to rotate and changeup the ala carte menu frequently in order to serve new and exciting dishes.
We have a variety of spaces within the venue; a beer garden, function room, dining room, main bar and lounge, allowing our guests to host all kinds of events.
Our Specials
Thursdays
$22 Parma Night
Happy Hour
Every day 4pm – 7pm!
Live Music
The Last Jar prides itself on its variety of live music offerings throughout the week.
Wednesday: Our traditional Irish music session kicking off from 4pm. Reminiscent of pubs back in Ireland it is a taste of home for many. Book in for dinner and enjoy our famous Beef and Guinness Pie, Irish Stew or any of our great menu items.
Friday: Rotating musicians play from 7pm on the stage in the main bar. Always a combination of your favourite popular songs, feel free to request!
Sunday: Another traditional Irish music session kicking off with the slow session from 5pm and building from there. Rotating Sunday roast always on offer!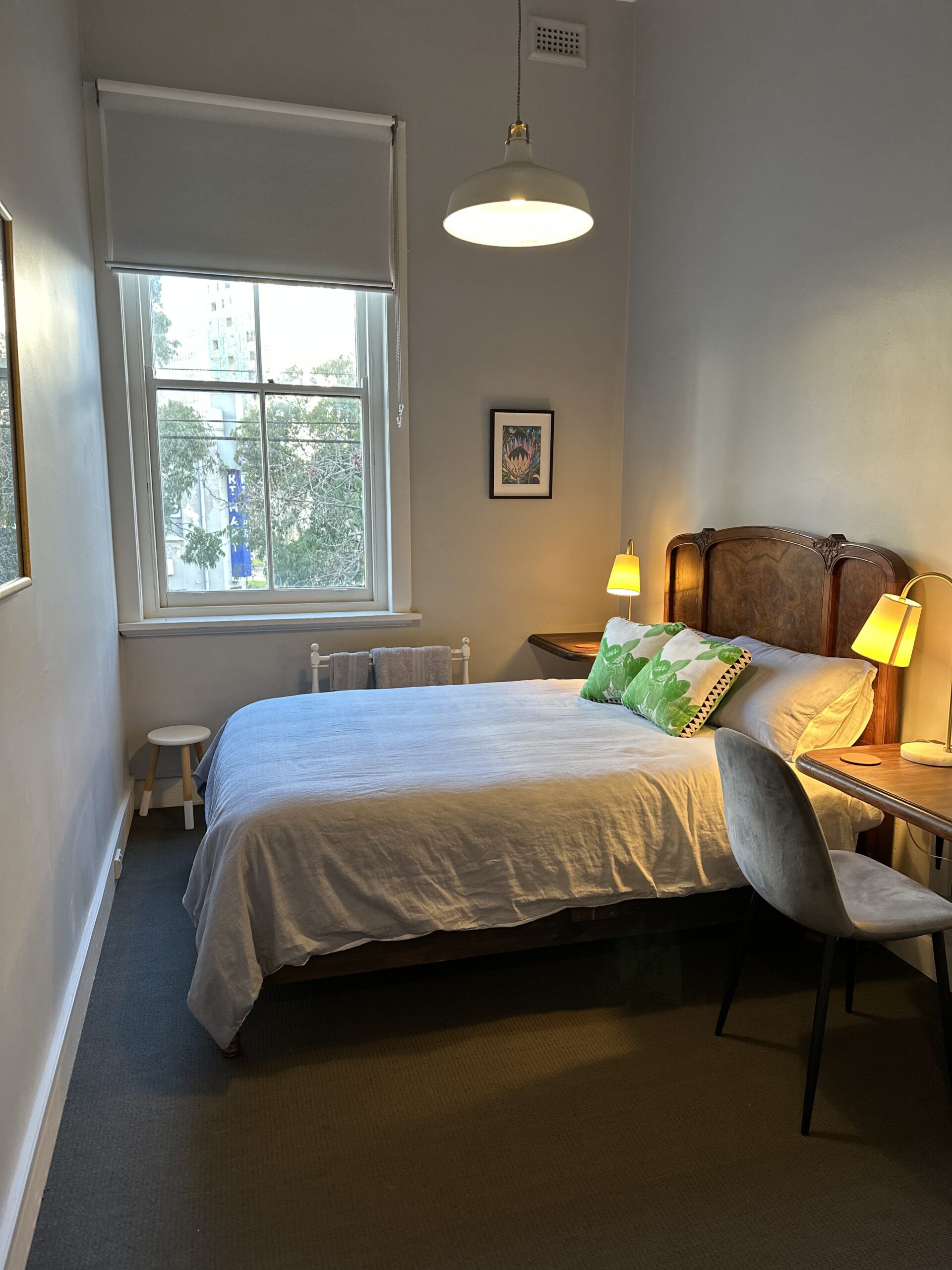 Accommodation
The Last Jar provides boutique accommodation in the northern part of the Melbourne CBD. A stone's throw from the Victoria Market and only 5 minutes from Melbourne and RMIT Universities and Melbourne's hospital and research precinct. You'll love the hospitality, charm and stylish decor of The Last Jar, your home away from home. 15 bedrooms with a variety of sizes to choose from with large modern shared bathrooms to accommodate all. Book via airbnb (links below) or call us on 03 9348 2957 or email us at thelastjarmelb@gmail.com.
Room 1
Room 01 @ The Last Jar – Hotels for Rent in Melbourne, Victoria, Australia – Airbnb
Room 2
Room 02 @ The Last Jar – Hotels for Rent in Melbourne, Victoria, Australia – Airbnb
Room 4
Room 04 @ The Last Jar – Hotels for Rent in Melbourne, Victoria, Australia – Airbnb
Room 6
Room 06 @ The Last Jar – Hotels for Rent in Melbourne, Victoria, Australia – Airbnb
Room 8
Room 08 @ The Last Jar – Hotels for Rent in Melbourne, Victoria, Australia – Airbnb
Room 9
Room 09 @ The Last Jar – Hotels for Rent in Melbourne, Victoria, Australia – Airbnb
Room 10
Room 10 @ The Last Jar – Hotels for Rent in Melbourne, Victoria, Australia – Airbnb
Room 11
Room 11 @ The Last Jar – Hotels for Rent in Melbourne, Victoria, Australia – Airbnb
Room 12
Room 12 @ The Last Jar – Hotels for Rent in Melbourne, Victoria, Australia – Airbnb
Room 13
Room 13 @ The Last Jar – Hotels for Rent in Melbourne, Victoria, Australia – Airbnb
Room 14
Room 14 @ The Last Jar – Hotels for Rent in Melbourne, Victoria, Australia – Airbnb
Room 15
Room 15 @ The Last Jar – Hotels for Rent in Melbourne, Victoria, Australia – Airbnb
Room 16
Room 16 @ The Last Jar – Hotels for Rent in Melbourne, Victoria, Australia – Airbnb
Room 17
Room 17 @ The Last Jar – Hotels for Rent in Melbourne, Victoria, Australia – Airbnb
Room 18
Room 18 @ The Last Jar – Hotels for Rent in Melbourne, Victoria, Australia – Airbnb
Room 19
Room 19 @ The Last Jar – Hotels for Rent in Melbourne, Victoria, Australia – Airbnb